When a child has a motor disorder they exhibit a wide range of developmental difficulties which include:
• Problems with movement and maintaining upright position
• Perceptual problems (this means a child will find it difficult to co-ordinate and understand what he/she sees, hears, smells, touches, etc.)
• Learning difficulties
• Difficulties with speaking and understanding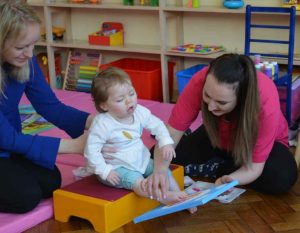 A combination of these difficulties can isolate a child from the normal social interactions of life, and result in a child feeling insecure and having a negative image of himself/herself. The result of all these difficulties has a significant effect on the child's motivation and personality.
The development of healthy self-esteem for these children requires education of breath and balance that truly enhances quality of life.
• 1 child in every 500 in NI has Cerebral Palsy
• 1891 children in NI are registered by NICPR with Cerebral Palsy
• 55 children are diagnosed annually with Cerebral Palsy
• Cerebral Palsy is one of the most common forms of physical disability
• Most people with Cerebral Palsy have a similar life expectancy to everyone else