Buddy Bear School teaches children from 3 months to 18 years and specifically designed education programmes have been developed.
Meet Daniel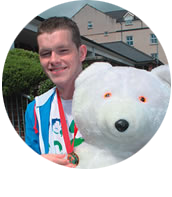 Daniel was one of the first fortunate children to benefit from Conductive Education at the Buddy Bear School. His mother, Mary originally took him to the Peto Institute in Hungary when he was born 22 years ago, where doctors held out very limited expectations for him because of Cerebral Palsy.

Daniel became a pupil in 1993 and travelled 70 miles every day with his mother to benefit from the life changing therapy. He is now an independent young man, hoping to swim for Ireland at the next Special Olympics.
Meet Penny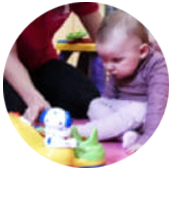 Penny was given little hope for the future because of Cortical blindness and 4 bleeds on the brain.

"Since attending Buddy Bear school my daughter has achieved many things we feared she would never achieve. When she began she was unable to keep her head up, roll, commando crawl, hold a bottle and was unable to look for things as she had very limited vision. Just a year later she is doing all these things and more."
Meet Terence
Terence was one of the first people from Ireland to go to the Peto Institute. He and the team opened the way for Conductive Education to come to Ireland. He is now a successful businessman employed as a printer in the Print Factory in Enniskillen.

"We are all so proud of Terence and his achievements. Terence gave a great positive talk to some of our parents to encourage them in their efforts. Terence has a great positive attitude to life."